Become a FAN!! OverKill Off Road


Promote Your Page Too




OverKill Off Road Original Build
This is the Jeep that started OverKill Off Road. We've tried to include a little bit of the whole build and modifications with the pictures.
2011 Mods (click photos to enlarge)
Atlas transfer case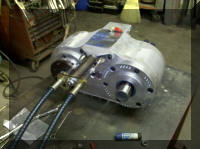 belly pan
The child's seat is now replaced with a polished aluminum center counsel
2008 Mods (click photos to enlarge)
| | | |
| --- | --- | --- |
| OverKill Custom Grill Guard | Jeep Quad style Aluminum tube fenders | |
| | Custom made headers | |
| Custom made 1/8" aluminum center counsel with Art Carr shifter, twin sticks and CB | | |
Year / Make / Model
'86 Jeep CJ7
Engine
400 Small Block Chevy, TPiS Fuel Injection, TPiS 52 mm Throttle Body, TPiS Tork Master Cam, Roller Rockers, .202 Intake Valves, Port & Polished Heads, OverKill custom headers, GM Computer w/ TPiS Custom Chip, OverKill Off Road Intake Tube w/ K&N Filter
Transmission
Turbo 350 with compression breaking in 1st & 2nd. Reverse shift pattern. Full manual valve body. 2500 stall.
Transfer Case
Dana 300 w/ Twin Stick
Front end
Dana 60 4.88 Gears, ABR Air Locker, OverKill Off Road High Steering, Warren Premium Hubs, DynaTrac 5 x 5.5 Conversion
Rear end
Dana 60, 4.88 Gears, Spool, Moser Axels, Disc Brakes
Suspension
Rear: 4 Link Suspension, 1/4 eliptical springs with 14" Bilstein shocks.

Front: 4 Link, 14" Race Runner Coil Over shocks.

Tires & Wheels
39.5 x Super Swamper IROK's

Mickey Thompson Classic II w/ OMF Bead Locks

Body Tub
JP Aluminum
Odds & Ends
Hydraulic Clutch - CNC Master & Slave Cylinder, Sam Patton 15 Gallon Stainless Steel Fuel Cell, Sam Patton Traction Bar, Griffin Aluminum Radiator w/ Flex-A-Lite model 180 Fan, Aeroquip Fuel & Oil Lines, Custom Drive shafts built by High Angle Driveline Shafts.

Steering - Full Hydro steering from Rock Stomper.

OverKill Off Road Built: Roll Cage, Shock Hoops, Tube Fenders, Belly Pan w/ Skid Plate, Winch Bumper
Moved winch inside frame rails for better protection
Another new bumper, sort of
Plumbed for New Trans & Ram
4 Link Front Suspension with Hydraulic RAM
Custom made Shock Buckets
4 Link Front Suspension with full Hydraulic Ram Steering
2007 Modifications

2007 Modifications
Build of the OverKill Jeep! (click on pictures to enlarge)
Okay, there are a few things we wanted to change!