This is Lilly's Jeep. Project Lil OverKill will be the wife's grocery getter. It will be tame enough for the streets but more then capable on the trails!
UPDATE: Not going to be a grocery getter any more. Body tub was sold and it will now be a Buggy!
UPDATE: New motor 350 crate motor now going in!
This is one of those projects that will take a while because, of course, customers come first!
6/12 New custom made gas tank!
5/12 New 350 Crate motor!
7/09 - 4-link suspension is tacked together!
6/09 - Welding up the Dana 60 with 4-link parts!
Belly pan!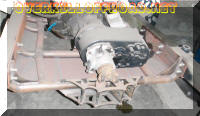 New Tires (4th set) and wheels! 37" x 14" IROKs with Allied Beadlocks!
It will not be the typical off road Jeep and definitely not a normal street Jeep!
Start Pictures!
Repair, Sandblasting & Primer
Work begins again!